Swiss technology Bühler Group has unveiled a new food innovation hub in Uzwil, Switzerland, to develop sustainable foods, including plant-based meat.
The food innovation hub comprises four new Application & Training Centers (ATCs): Flavor, Food, Protein, and Energy Recovery, joined by existing Chocolate, Extrusion, Pasta, and Grain (under construction) ATCs.
Bühler emphasizes that all its ATCs connect the entire food production value chain, offering customers the ideal environment to "master market changes" and innovate.
"In this world where requirements are changing so fast, customers need flexibility and creativity to adapt their products addressing key issues such as sustainability, the use of local raw materials, healthy diets, and affordability," says Johannes Wick, CEO of Grains & Food at Bühler Group. 
Innovation for plant-based foods
Operated in partnership with Endeco, the new Protein Center will foster the development of plant-based foods, including meat alternatives, plant-based drinks, and ingredients. It has wet isolation and fractionation equipment for separating protein, starches, and fibers. This application center will work with the Extrusion Center, where customers can test new recipes, product shapes, and textures for plant-based foods. 
At the Flavor Center, customers can create flavors and products in one place, leveraging Bühler's expertise in chocolate, nuts, and coffee. It offers product innovation, training, process optimization, and raw material analyses. 
The new Food Creation Center supports customers through product development, from innovation to industrialization. It combines cutting-edge technology, analytical services, product and process development, workshops, and training. 
The Energy Recovery Center, built by Bühler and its strategic partner, Vyncke, utilizes the waste and by-products generated by all the ATCs — around 550 tons of biomass annually — to heat Bühler's headquarters. It is also a demonstration and testing platform for CO2 footprint reduction and energy costs using side streams and waste.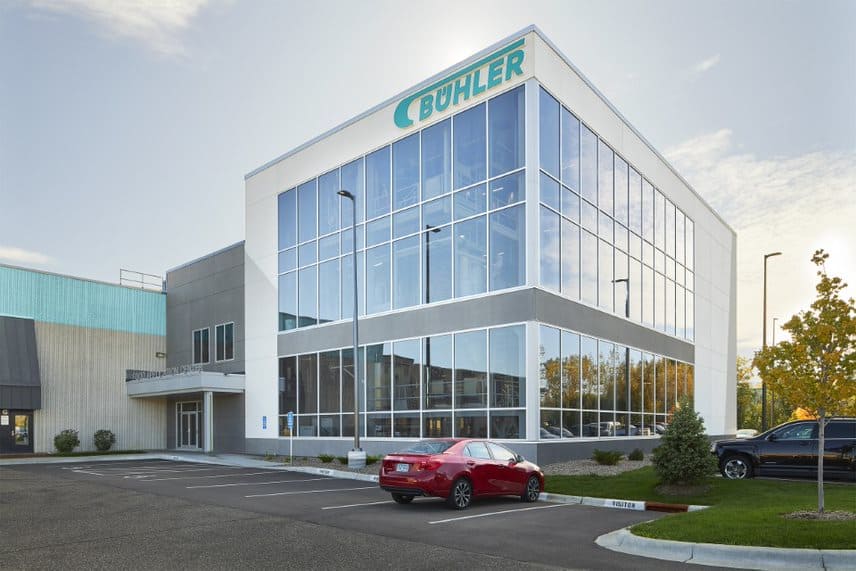 Sustainable collaborations
Bühler has ATCs in 23 locations worldwide. Recent expansions include collaborating with the Institute of Food Technology (Ital), the FoodTech HUB Latam, Cargill, and Givaudan to install the Tropical Food Innovation Lab in Brazil. This innovation ecosystem develops sustainable food and beverages while promoting the country's biodiversity.
In another partnership to advance sustainability, Bühler and MMS AG of Zurich are advancing the development of highly functional ingredients for meat and dairy alternatives.  Additionally, Bühler is building a new Grain Processing Innovation Center in Kano, Nigeria, set to open at the beginning of 2024. The center will develop products, recipes, and processes using local grains, such as sorghum, millet, maize, soybeans, beans, and tiger nuts. 
"The opening of the Application & Training Centers is a milestone in our journey to support our customers and partners and create a more sustainable food system," comments Ian Roberts, Bühler Group's CTO.