ONLY TWO CONVERTED TRIES IN IT, BOYS
Well done, France, they're 198th. If France are posing as Michael Owen in this slightly stretched analogy, then Football Daily is very much channelling Neville Southall after watching France's record-breaking 14-0 win [FOURTEEN – Football Daily Vidiprinter] over Gibraltar, the biggest victory in men's Euros qualifying history. Spare a thought for the minnows, with a population the size of the 3rd Arrondissement, living in a mountainous territory of two-and-a-half square miles, who were reduced to 10 men after Ethan Santos's early red card. Glory to France, who have reached the last two World Cup finals and count some of the best and most expensive players on the planet among their ranks.
To anyone that took a modicum of joy from Olivier Giroud leaping into the air to scissor-kick the 14th and final hammer-blow to Gibraltar's cause, shame on you [that's us told – Football Daily Ed]. The result is bad for football, bad for competitiveness, bad for class, decorum and the spirit of the game. It's good for almost nobody, unless you are Giroud (who extended his record as Les Bleus' all-time leading scorer to 56 with two late strikes) and Kylian Mbappé (who netted a hat-trick and is now third on 46 goals, five behind Thierry Henry). Both celebrated their latter strikes like they were the winner in a Big Cup final.
Some will defend France, arguing that showing mercy in football is a sort of loser mentality. Those people probably like Donald Trump and enjoy putting cats in bins, and shouldn't be listened to. At least head coach Didier Deschamps kept things in perspective at half-time with his side 7-0 up. "Full marks boys for the first half," he waffled to the dressing room. "Let's have more of the same in the second. Keep things as simple as possible and whenever we can we score. There are no limits. I want the same determination from everybody. Don't hold back boys." Reader, they did not.
"Even if we could have been more efficient, it's as much about respecting the opponent as scoring goals," continued Deschamps after the drubbing. "Fourteen is not bad. It is also about setting higher objectives and not being satisfied with what we have. This squad is competitive, they always want more." Gibraltar, meanwhile, decided not to speak to the press, but a senior source told the Gibraltar Chronicle that "it was like a morgue" in the away dressing room, adding that "players were crying, quiet, sunken heads and not a word was spoken". Next up for Julio Ribas's team, who are yet to score in qualifying: the visit of fellow minnows … Netherlands. Who knows what might happen at the Estádio Algarve? Hurrah for the current format of international football! Bring on more of 2026 World Cup qualifying and 48-team tournaments!
LIVE ON BIG WEBSITE
Join Rob Smyth from 7.45pm GMT for Euro 2024 qualifying MBM coverage of Ukraine 1-1 Italy. Scott Murray will be here for North Macedonia 1-2 England.
QUOTE OF THE DAY
"I've protected people for far too long. Far too long when I'm seeing things happen this season. Flatness in games at times and I'm wondering what's going on? So much so that I've gone and reviewed every session that we've done since I came to this football club. I understand that people go outside of here but I need them to then be professional in what they're doing, because the sessions are set up as if they're going to go and rest. Get their adequate rest and hydration in and eat at the right times. I find out the players are on their computers for eight hours leading into matches. I've had to go and pay to speak to someone to say this is what's happening to my players. It's only this week they came back with: 'They're gaming.' I was like: 'They play games in training.' I thought he meant that but no, they play on their Xboxes and PlayStations. I speak to boys and they're spending, six, seven hours sat in one position, eyes fixed – glued – to a TV. Then they're trying to go and play a match the next day. And you're wondering why you can't concentrate? Come on" – after a 3-1 defeat at home to Kelty Hearts left his team eighth in Scottish League One, Queen of the South manager Marvin Bartley rips into players' gaming habits.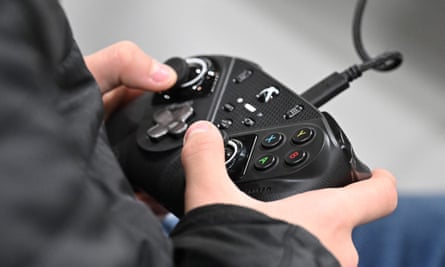 Re: inappropriately-named clubs (Football Daily letters passim), I have to cite Chilean side Santiago Wanderers, currently playing in the second tier of that nation's league. As the oldest club in Chile, they have been in the same city since 1892, and the same ground since 1931, so the nickname 'Wanderers' doesn't really fit. More remarkably, neither does the 'Santiago' part of their sobriquet, as the team has been based since its founding in Chile's second city Valparaíso, some 134km from the capital" – Jonathan Jucker.
We're used to tales of riot police and fan violence in South America (Football Daily letters passim), but not so in genteel Switzerland. In 2006 my wife accepted a new job in Basel and, while I was still in the UK managing the removals and house letting, she was invited to a Sunday afternoon game at St Jakob-Park, for Basel v FC Zurich. What she didn't know was that it was the last game of the season, Basel just needed to avoid defeat to win the title from their opponents. Oh, and the fans of these two teams don't like each other. Zurich won 2-1, Basel fans stormed the pitch and fought with police, who used water cannons and rubber bullets. Outside, the away fans didn't have enough police protection and there were more violent scenes and running battles with police. At the end 100 people were injured, £350,000 of damage was done to the stadium and, two years later, there was a trial of 26 Basel fans. Welcome to Switzerland!" – Mark Bennett.
If, as Scott McTominay insists, 'rolling around crying like babies all the time is not football' (Friday's News, Bits and Bobs, full email edition), how does he explain Bruno Fernandes?" – Ed Taylor (and others).
Send any letters to the.boss@theguardian.com. Today's letter o' the day winner is … Jonathan Jucker, who lands a copy of Arsène Who? by Ryan Baldi. We've more to give away all week, so get typing.