Taylor Fritz's recent statement regarding tennis has created a massive buzz in the sports world. Fans loved his appearance on the Netflix series BreakPoint. In the series, he expressed his desire to attract more viewers to the sport. Fritz has contributed massively to the growing popularity of tennis through his exceptional performances on the court. However, Fritz's recent statement about not keeping up with tennis has left some fans confused. And many fans are questioning his dedication to the sport.
Taylor Fritz speaks his mind in the post-match conference
Taylor Fritz has been making waves in the tennis world with his impressive performances and his desire to attract more fans to the sport. However, the 2022 Indian Wells champion's recent statement about not following tennis has left some fans questioning his commitment. He shared, "I don't really like watching tennis too much. If I watch, then it's more just like I'm watching the person that I'm playing next and trying to just pick up on some things, do some scouting."
ADVERTISEMENT
Article continues below this ad
However, it should be noted that Fritz has also mentioned that he watches tennis while on-site. He studies his opponents' games, which indicates that he is still dedicated to the sport and takes it seriously.
This is a widespread exercise among athletes, as studying an opponent's playing tendencies can give them a competitive edge. However, Fritz also cited that he may watch a match if there's a big point or tiebreaker. This indicates that he may still find some enjoyment in watching high-stakes moments of the sport.
DIVE DEEPER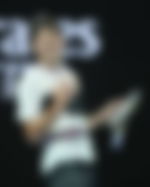 ADVERTISEMENT
Article continues below this ad
Numerous athletes use their social media platforms to bring about positive change. Taylor Fritz is one such athlete who has spread awareness about mental health. He has openly shared his own struggles with anxiety in hopes of inspiring others and reducing the stigma surrounding mental health issues.
WATCH THIS STORY- We Will Kick Them Out'- Tennis Boss Issues Fierce Warning to Violent Spectators Ahead of the Start of 2023 Australian Open
Was Taylor Fritz affected by the 'Netflix Curse', again?
ADVERTISEMENT
Article continues below this ad
The Netflix curse is a hot topic worldwide, as it seems to be affecting many players who were featured in BreakPoint. Fans are expressing their doubts about the legitimacy of the curse when players like Taylor Fritz, Casper Ruud, and Matteo Berrettini have already been eliminated from the first Grand Slam tournament of the season. Social media platforms like Twitter and Reddit are filled with thousands of reactions to this bizarre phenomenon.
Netflix UK and Ireland denied the existence of the curse, calling it a coincidence, but fans are still skeptical. While some believe that the curse is real, others think that the players' elimination in the Australian Open 2022 is due to their performance.