NEW DELHI: Even though they came short in the end, losing the final by six wickets to Australia in Ahmedabad on Sunday. One of the biggest reasons for India's impressive campaign in the 2023 ODI World Cup at home is the success of their top-order batters.
The aggressive starts provided by skipper Rohit Sharmais well documented as it played a pivotal role in setting the tone of the innings.But the other important aspect of the Indian batting was the solid performances of the top-order batters and their crucial partnerships, which kept the opponents at bay at the start of the innings.
Captain Rohit, his opening partner Shubman Gill and India's batting mainstay Virat Kohli have performed not only as individuals but as batting partners too.
Kohli finished as the highest run-getter in the tournament with 765 runs in 11 innings, that's a mind-boggling average of 95.62 in the mega event. Rohit is not far behind with 597 runs @54.27, which came at double quick time with a strike rate of 125.94. Gill, who missed out the first two matches due to dengue fever, has contributed 354 runs in 9 innings @44.25.
Virat Kohli (R) with teammate Shubman Gill. (AFP Photo)
The impact of the top-order in shaping the course of the innings can be gauged from the fact that, Rohit and Gill have put on five fifty-plus stands, including a hundred-run partnership, and averaged 52.77 for the opening wicket in nine innings. Even a short two games opening partnership between Rohit and Ishan Kishan averaged 79, thanks mainly to their mammoth 156-run stand against Afghanistan.
Add to that another two centuries and two fifty-plus stands for the second wicket, and the Indian innings are set for a good total or a good chase.
After Rohit's enforcing knock, Kohli and Gill have averaged 90.50 for the second wicket in five innings. So the fall of the first wicket is seldom followed by a second in quick time for the hosts.
Rohit-Virat's stands are a bit below par — 30.16 average in six innings with just one fifty-plus partnership. That's mainly because, Rohit, true to his strategy, did not slow down his scoring rate and continued with high-risked batting.
With all three top-order batters performing exceedingly well and putting up big partnerships, India middle-order batters had less pressure and batted more freely in the tournament. That's why the likes of Shreyas Iyer (530 in 11 innings @66.25) and KL Rahul (452 in 10 innings @75.33) are among the top run-getters in the tournament, boosting India's chances in the game both while chasing and batting first.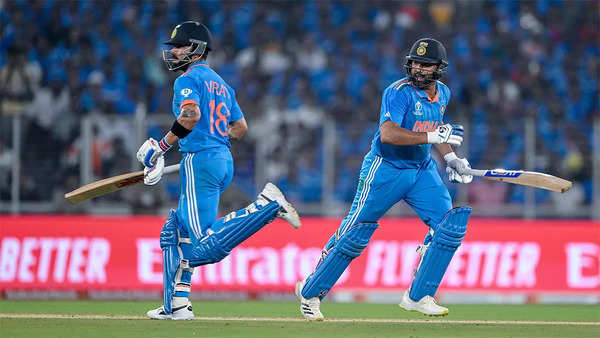 Virat Kohli and Rohit Sharma. (AFP Photo)
Here's how the numbers are stacked up for India's top-order batters and their partnerships:
Rohit Sharma: M 11 | R 597 | HS 131 | Ave. 54.27 | SR 125.94 | 1x100s | 3x50s
Shubman Gill: M 9 | R 354 | HS 92 | Ave. 44.25 | SR 106.94 | 0x100s | 4x50s
Virat Kohli: M 11 | R 765 | HS 117 | Ave. 95.62 | SR 90.31 | 3x100s | 6x50s
Top opening stands
Rohit-Ishan — 156 in 18.4 overs vs Afghanistan
Rohit-Shubman — 100 in 11.5 overs vs Netherlands
Rohit-Shubman — 88 in 12.4 overs vs Bangladesh
Rohit-Shubman — 71 in 11.1 overs vs New Zealand
Rohit-Shubman — 71 in 8.2 overs vs New Zealand (semis)
Top second-wicket Stands
Shubman-Virat — 189 vs Sri Lanka
Shreyas-Virat — 163 vs New Zealand (semis)
Shubman-Virat — 93* vs New Zealand (semis)
Rohit-Virat — 56 vs Pakistan
Australia beat India by 6 wickets, win record-extending 6th title | World Cup 2023 Final | INDvsAUS